<< Back
|

Charlotte, North Carolina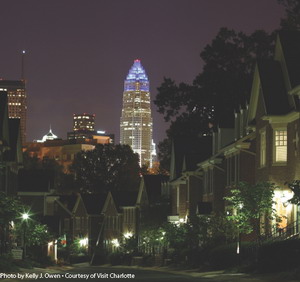 Before the lure of gold drew dreamers and treasure seekers to California, it attracted them to South Central North Carolina in search of untold riches.
The Charlotte area spawned the nation's first gold rush early in the 19th century, shortly after a local jeweler realized that a 17-pound rock a family had been using as a doorstop was nearly solid gold. Although the total amount of the precious metal mined in North Carolina was dwarfed by that found later on the West Coast, Charlotte has remained a vibrant and growing city and today is among the nation's busiest financial centers.
More than $970 billion in financial assets is managed in the Charlotte region, home to the first and fourth largest bank holding companies in the United States, Bank of America and Wachovia, respectively. But Charlotte's gold extends well beyond the halls and walls of its monetary institutions. Its subtropical climate, central location, historical significance and wide variety of culture, education, sports and entertainment have combined to make it one of America's fastest-growing cities.
With an estimated population of more than 610,000, Charlotte climbed dramatically from the 26th to the 20th largest city in the United States from 2000 to 2005, increasing its numbers at a greater rate than all but three of the top 50 municipalities in the country–Las Vegas, Austin, Texas, and Mesa, Ariz. The U.S. Conference of Mayors has dubbed Charlotte the nation's "Most Livable City," and similar honors were bestowed on the city by Partners for Livable Communities.
Charlotte, nicknamed The Queen City, was founded in the mid-18th century at the intersection of two Native American trading paths. It was named in honor of Queen Charlotte, the wife of King George III of England, but that meant little to its independent inhabitants. Not long after, with the American Revolution at hand, British Gen. Cornwallis wrote that Charlotte was "a hornet's nest of rebellion."
Following North Carolina's gold rush and the Civil War, Charlotte boomed as a cotton processing center and a railroad hub. The population of the city surged upward again during World War 1 when Camp Greene was established. The city's banking industry soared in the 1970s and 1980s and remains rock solid today.
In addition to major league football and basketball teams, Charlotte's top entertainment attractions include Paramount's Carowinds theme and water park, Discovery Place science center and the North Carolina Blumenthal Performing Arts Center.
People no longer pan for gold in Charlotte, but they find gold in a thriving community near the North Carolina/South Carolina border.
For information about Charlotte, North Carolina and the surrounding area contact Nadine Deason of TEAM NADINE
117 North Pilot Knob Road
Denver, NC 28037 | MAP
Phone: 843-345-7012
Visit my site: ALakeHome.com/
Email Me: nadine@teamnadine.com