Swansboro, North Carolina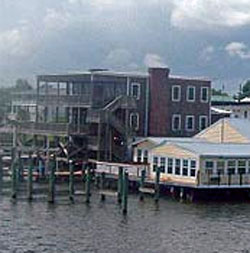 The town of Swansboro has changed its focus many times since it was first established in 1730, playing an important role as a bustling colonial port and later turning to shipbuilding, lumber, commercial fishing and the military as major sources of economic growth.
" What has remained constant is the city's quaint charm and connection to the past. "
What has remained constant through the years is the waterfront city's quaint charm and connection to its past. Conveniently situated on the White Oak River and the Intracoastal Waterway, Swansboro provides for its residents and visitors a leisurely journey through time, with interesting boutiques and gift shops, and waterside cafes and unique restaurants. In addition to its historic sites, the Swansboro area offers a wide range of recreational activities, including golf, bicycling, kayaking and canoeing, along with some of the most undeveloped beaches in the country.
Long before there was a United States of America, Swansboro was founded on the site of an Algonquian Indian village. The town was incorporated in 1783 and named in honor of Samuel Swann, a former speaker of the North Carolina House of Commons and a longtime area resident.
The port, and the town's shipbuilding industry, prospered until after the War Between the States, due in no small part to the exploits of Capt. Otway Burns, who built the Prometheus, the first steamboat constructed in North Carolina. When the shipping business waned, lumber took over and prospered until the Great Depression, when local residents persevered by turning to the sea and developing a thriving commercial fishing industry. During World War II, the military provided economic growth with the establishment of Marine Corps bases at Cherry Point and Camp Lejeune.
Today, "the friendly city by the sea" looks to the future by cashing in on its connection to the past. With a population just over 1,300, it draws interest from visitors and potential new residents from nearby Jacksonville and points beyond. Its calendar of events is busy throughout the year and includes an annual oyster roast in March; the Memorial Day Blue Water Fishing Tournament in May; the Arts By The Sea Festival in June; the Mullet Festival in October; and the Christmas Flotilla, Candlelight Shopping and Speckled Trout Tournament in November.
Would you like this content on your website or do you have any questions about this article? If so, contact publisher@mediaservices1.com.