<< Back
|
Local Weather
|
Local Tides
|
Golf Courses
Washington, North Carolina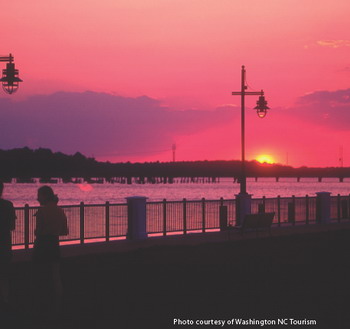 WASHINGTON, NORTH CAROLINA –referred to as "Little Washington" by some–was the first town in America named after Revolutionary War General and U.S. President George Washington. Originally named "Forks of the Tar" when it was founded in 1771, the town became Washington amid the patriotic fervor of 1776.
Today, Washington, like so many once-sleepy Eastern North Carolina waterfront towns, is enjoying an economic boom, partly because of the migration of retirees southward in search of temperate climates and laid-back lifestyles. The population has grown from about 9,000 in the 2000 census to around 15,000 today.
Washington, the seat of Beaufort County, which bills itself as "the heart of the Inner Banks," features a number of cultural and recreational attractions that celebrate the region's distinctive Carolina heritage. The revitalized waterfront district is listed in the National Register of Historic Places, and many of Washington's historic homes and other structures date back to 1780.
Other area attractions include the North Carolina Estuarium and Goose Creek State Park.
At the North Carolina Estuarium–" where the river meets the sea"–visitors can learn more about the ecology of the Pamlico Sound and the Tar and Pamlico Rivers. Located at 223 Water St., the Estuarium includes more than 200 historic, scientific and artistic exhibits in a family-friendly environment.
Enjoy primitive camping, paddle trips and more at Goose Creek State Park, located on Camp Leach Road 10 miles east of Little Washington. This 1,670-acre park offers a look at wild, undeveloped coastal Carolina and also serves as a haven for a wide variety of bird species such as woodpeckers and red-shouldered hawks. Visitors can learn even more by taking part in archaeological explorations and other programs focusing on wildlife and native plants.
Regional attractions aside, Washington's waterfront–so vital during the Civil War that the town spent two years under Union occupation– now draws visitors from all over the country with its unparalleled shopping, seafood and arts. The Beaufort County Arts Council, located downtown in the old Atlantic Coastline depot, offers an extensive schedule of exhibitions, concerts and shows, almost all at no charge.
The blend of arts, history and ecology so abundant in Washington continues to attract growing numbers of visitors and residents to this coastal Carolina gem.